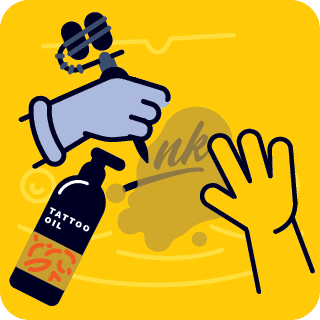 Make sure to moisturize your skin before the session starts – for example, with our Tattoo Butter. You should also wash the selected body part with the antibacterial Tattoo Soap. Once the session is over, you can apply a few drops of Tattoo Oil on your new tattoo to reduce the swelling.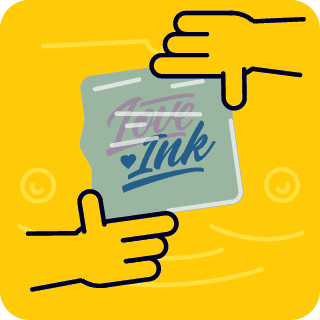 Apply a dressing over the fresh tattoo. Wear the second skin for about one to three days (depending on the tattoo artist's recommendations). Take off any other protection after a few hours or leave it overnight if you got your tat done in the evening.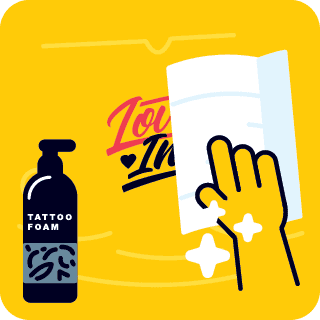 3. Extra care after removing the dressing
Before removing the dressing, ensure maximum hygiene! Wash your hands thoroughly. For your tattoo, use the Tattoo Soap to disinfect the skin and dry it gently with a disposable towel.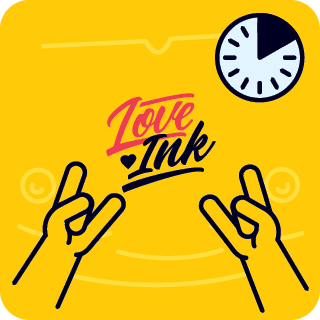 Once the tattoo is clean and dry, let it "breathe" and leave it for about ten minutes. Try to refrain from touching it during this time.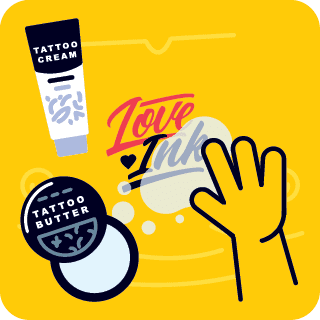 5. Hydration of the tattoo
Every new tattoo needs a lot of hydration. A thin layer of the Loveink cosmetic will be just enough for this. You can choose between butter, oil, or cream. Feel free to go with whatever is best for you.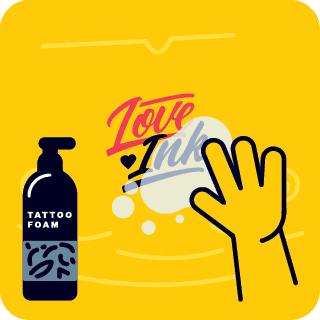 It takes time for the tattoo to heal completely. Remember about special treatment regarding your new tattoo for about a month after getting it. Take care of hydrating it to the maximum. Treat your skin only with natural cosmetics, which will fasten the healing process.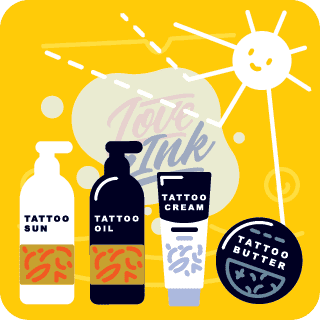 Every tattoo, especially a fresh one, needs proper protection. To maintain a neat look of the artwork, regularly apply a thin layer of Loveink over it. Additionally, protect your skin from the sun by using Tattoo Sunscreen.

How to take care of a new tattoo?
It's only natural that every person who dreams of getting a tattoo also wants it to look aesthetically pleasing. Choosing a suitable tattoo artist is the first step to achieving this goal. Another thing worth remembering is that the final effect of the artist's work also depends on your engagement regarding the aftercare process. Here you can learn how to take proper care of your fresh tat so that you will enjoy its perfect condition for many years to come.
Many factors influence the healing process of tattooed skin. After all, you can't forget that every tattoo is an open wound. Protect it with a dressing and regularly lubricate it using a regenerating cream or oil. It's also significant to sustain maximum hygiene of the tattooed area at home. After removing the dressing, you should carefully wash your new tat with an antibacterial soap. Another crucial step is moisturizing it regularly throughout the day. Loveink cosmetics can be a great help when it comes to that. Scroll down and find out how to take care of your brand-new tattoo & pick the method that suits you best!
Tattoo aftercare – why do you need it?
A new tattoo often needs complex care. It affects not only its final appearance, but also the overall healing process of the skin. The first stage is scarring of the epithelium, which lasts about fourteen days. Whether your tattoo tells a story, is a unique self-expression form, or simply a decoration, it's always worth some extra attention. A well-chosen skincare routine allows the epidermis to regenerate at the right pace so that you can enjoy your tattoo without any unpleasant surprises.
How to take care of a new tattoo?
You should be aware that a fresh tattoo requires special treatment. Every work's final effect stays not only in the hands of a tattoo artist, but also in those of his client. However, there's no need to be afraid! Natural products with a short composition dedicated to tattoos will work best in this field. Butters, soaps, oils, creams – so many you can easily get lost in them. Are you wondering which cosmetic would be the best for you?  
Our offer includes several products intended for the best regeneration of your epidermis:
Tattoo Soap – washes away ink remains as well as other physical dirt. Thanks to the addition of colloidal silver, it kills viruses, bacteria, and fungi. It also protects the injured skin from infection, and its composition is reduced only to a necessary minimum to avoid causing any unwanted irritations.
Tattoo Cream – one of a few universal products on our offer. It appeases and restores the hydro-lipid barrier of the epidermis, making the skin moisturized and incredibly soft. Thanks to as many as nine active ingredients, it perfectly soothes the place where your tattoo is, which is why we call it "a cosmetic for special tasks."
Tattoo Butter – a nourishing and moisturizing mixture of natural butter and oils. Reduces swelling and redness while regenerating the skin and accelerating the healing process. Butter leaves a thin layer on the skin that retains dirt and makes it easier to remove it. The cosmetic also prevents dirt from getting into the wound, protecting it from infections.
Tattoo Oil – has the same composition as Tattoo Butter but in a lighter, oily form. Convenient to apply with a pump. It spreads easily and is quickly absorbed into the skin, leaving no visible layer. Perfect for large-area tattoos.
Right after the session – cover your tattoo with a suitable dressing.
Before leaving the tattoo studio, it's always good to double-check if your skin is secured enough. What we have in mind is a suitably made dressing, which creates a protective barrier against dirt and microorganisms. For this, tattoo artists use the so-called second skin, which should stay on the skin for one to three days. The exact time of wearing it will be indicated by the tattoo artist themselves, taking into account the individual characteristics of the client, as well as the type of their tattoo. If you're looking for an alternative with the same protective functions, try using absorbent dressing and foil. These should be removed much earlier, after two to three hours from the end of the tattoo session. If you get your tat done in the evening, it's a good idea to protect the skin with a dressing for the following night.
For the next two to three days, beware of mechanical dirt, including dust or pet hair. If it's impossible for you to avoid contact with them, put the dressing on the tattoo until your surroundings are clean. In this case, you should make each new dressing out of a fresh layer of foil.
How to "unpack" a tattoo – what should you do after removing the dressing?
Removing the dressing isn't as easy as it may seem at first. During this operation, you should be especially careful to protect the tattoo from any dirt possible. Thanks to this, no harmful bacteria can get into the wound – otherwise, they would cause an infection and difficult healing of the artwork.
You should wash your hands thoroughly before removing either the tattoo foil or the second skin. It's good to have our natural Tattoo Soap at hand, which, after removing the dressing, is enough to wash the tattoo. The purpose of this soap is not only to remove the resulting dirt but also to get rid of bacteria, viruses, and fungi that can infect the open wound.

Due to the high sensitivity of the healing area, we have limited the composition of our product only to the necessary ingredients. As a result, the soap is gentle on the skin without irritating it. The only additive is colloidal silver, which has a biocidal function.

You should gently dry the cleaned area with a paper towel. A clean and dry tattoo should be left to "breathe" without touching it. Allow the skin to rest. You'll be free to continue after ten minutes pass. Apply a thin layer of the chosen Loveink cosmetic on your tat, carefully spreading it over the skin. It's best to follow the rule "the less, the better." If the layer of cosmetics is too thick, it prevents the skin from breathing and slows down its healing.
What's next – how to properly take further care of the tattoo?
Properly securing the tattoo after the session and removing the dressing isn't enough. Daily skin care is almost equally important. After you get your tat, you should treat it with dedicated cosmetics for about three to four weeks. During this time, apply a thin layer of butter, oil, or cream to it. 
  Your tattoo doesn't like sunbathing!
It's worth emphasizing that preserving the skin from the sun is extremely important, especially when it comes to the tattooed one. The sun's rays can harm the skin, especially when a fresh tattoo appears on the body. UV light makes the skin age quicker and can delay your tattoo's healing process or even cause skin burns and ink fading. If you want to avoid it, use a protective cream with a high filter. We created our Tattoo Sunscreen for extraordinary tasks such as these. Trust us, and your tattoos will thank you for it!
The mild formulation of Loveink vegan cosmetics will facilitate a nice healing of your tattoos and take care of them in daily care. Thanks to our cosmetics, tattoos will keep their beautiful and fresh appearance for years. We encourage you to take a look at the products available in our store. Find your favorite Loveink cosmetic to accompany you when you decide to get a new tattoo!